Timeless Style: Gold Chandbali Earrings for a Statement Look
Posted by LABEL DC
Timeless Style: Gold Chandbali Earrings for a Statement Look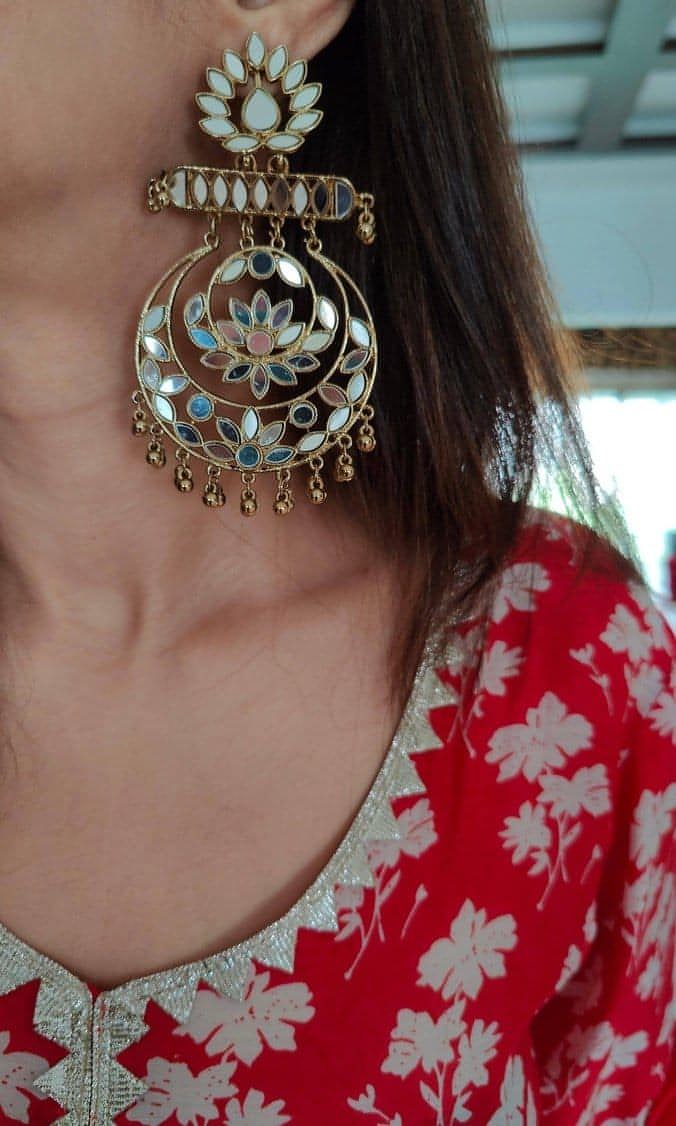 When it comes to accessorizing, nothing makes a statement quite like a pair of gold Chandbali earrings. These exquisite pieces of jewelry have been worn for centuries and continue to be a favorite among fashion enthusiasts. The intricate design, timeless elegance, and versatility make gold Chandbali earrings a must-have in every jewelry collection. In this article, we will explore the various aspects of gold Chandbali earrings and how they can enhance your style.
The Versatility of Gold Chand bali Earrings
Gold Chandbali earrings are known for their versatility. Whether you are dressing up for a traditional Indian wedding or looking to add a touch of glamour to a contemporary outfit, these earrings can effortlessly elevate your look. The unique crescent moon shape of the Chandbali design is what sets it apart. It lends an air of feminine grace and sophistication to any ensemble.
Timeless Elegance: Pairing Gold Chandbali Earrings with Any Outfit
One of the remarkable qualities of gold Chandbali earrings is their ability to complement any outfit. Whether you are wearing a beautiful saree, an elegant Anarkali suit, or even a modern Western outfit, these earrings will add a touch of glamour and elegance. The warm golden hue of the earrings complements all skin tones, making them a universally flattering choice.
For a traditional look, pair your gold Chandbali earrings with a stunning silk saree and a matching gold necklace. The intricate details of the earrings will beautifully enhance the overall ensemble. If you prefer a fusion look, wear your Chandbali earrings with a flowy maxi dress and a bangle bracelet for a bohemian-inspired style. The possibilities are endless, and the versatility of gold Chandbali earrings ensures they can be worn for any occasion.
Making a Statement: Standout Styling with Gold Chandbali Earrings
If you're someone who loves to make a bold fashion statement, gold Chandbali earrings are the perfect accessory for you. Their eye-catching design and intricate details will instantly draw attention to your face, making you the center of attention in any room. These statement earrings are the ideal choice for special occasions such as weddings, parties, or formal events.
To make a standout style statement, pair your gold Chandbali earrings with a sleek updo hairstyle. This will ensure that all eyes are on your stunning earrings. Keep the rest of your accessories minimal to let the earrings take center stage. A simple gold bracelet or a delicate ring will perfectly complement the grandeur of the Chandbali earrings.
Celebrities and Their Love for Gold Chand bali Earrings
Gold Chandbali earrings have captured the hearts of many fashion-forward celebrities. From Bollywood divas to Hollywood stars, these earrings have been spotted on red carpets and social events around the world. Celebrities like Deepika Padukone, Priyanka Chopra, and Aishwarya Rai Bachchan have often opted for gold Chand bali earrings to complete their glamorous looks.
One of the most memorable appearances was when Deepika Padukone wore a stunning pair of gold Chandbali earrings at the Cannes Film Festival. The earrings perfectly complemented her ethereal look and added a touch of old-world charm to her ensemble. The trend of wearing gold Chandbali earrings has since gained popularity, further cementing their status as a must-have accessory.
Choosing the Perfect Gold Chandbali Earrings for Your Personal Style
With numerous designs and variations available, it can be overwhelming to choose the perfect pair of gold Chandbali earrings for your personal style. Here are a few tips to help you make the right selection:
Consider the occasion: Determine whether you need the chand bali earrings for a formal event or a casual outing. This will influence the design and embellishments you choose.
Match with your outfit: Consider the colors and style of the outfit you intend to pair the earrings with. Opt for complementary designs to create a cohesive look.
Face shape: Take your face shape into account when selecting the size and shape of the Chandbali Earrings. Choose a style that enhances your best features.
Comfort: Ensure that the earrings are lightweight and comfortable to wear for extended periods. This will ensure you can enjoy them without any discomfort.
Investing in a pair of gold Chandbali earrings will not only elevate your style but also add a touch of tradition and elegance to your look. Their versatility, timeless appeal, and the ability to make a fashion statement make them a prized possession in any jewelry collection. So, if you're looking for a way to enhance your style, consider adding a pair of these exquisite earrings to your accessory arsenal.
Explore our collection of gold Chandbali earrings and find your perfect statement piece today!
Remember, it's not just about the jewelry; it's about how it makes you feel and the confidence it instills within.
| | Introducing the exquisite Gold Chandbali Earrings, a true reflection of grace and elegance. These captivating earrings are the perfect blend of tradition and contemporary style, making them a must-have for every fashionable woman. Crafted with utmost precision and attention to detail, these Chandbali Earrings showcase a stunning design that will leave you mesmerized. The intricate filigree work and delicate patterns are beautifully embellished with sparkling gold accents, adding a touch of opulence to your ensemble. Made from high-quality gold, these earrings ensure lasting durability and a timeless appeal. The lustrous shine of the gold enhances the radiance of the wearer, exuding confidence and sophistication wherever you go. Whether it's a wedding, festive celebration, or a special occasion, these earrings are sure to make a statement and turn heads. The lightweight design ensures comfort during prolonged wear, allowing you to shine all day and night without any discomfort. The secure clasp offers a snug fit, ensuring that you don't have to worry about losing your precious earrings. Indulge yourself or surprise your loved ones with these Gold Chandbali Earrings, a symbol of luxury and extraordinary craftsmanship. Elevate your style with these iconic earrings and let your beauty shine through. |
| --- | --- |
| Gold Chandbali Earrings - Gold Chand bali | View Product |
| INR 1500.0 | |
Collection 2019
Sale 70% Off
Third slide